Top Three Reasons For Attending Church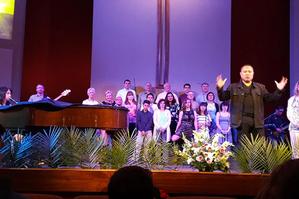 Wungreiso Valui
May 2017
Jon Miltmore was a little surprised to discover that the Number One reason that appeals most to churchgoers about attending church was a sermon that teaches the Bible. "Baptist News Global" caught up with Miltmore and shared some of his thoughts. He is neither a pastor nor a congregational consultant. Nor is he a music pastor or the writer of books about the Millennials and faith. Instead, he is the senior editor of "Intellectual Takeout," a Minnesota-based think tank that seeks to promote rational discourse on topics such as media, politics, education, culture and religion. That focus makes him interested in trends that shed light on the behavior of Americans.
What Appeals Most to Churchgoers
1. A sermon teaching the Scripture is most appealing to churchgoers (75%).
Sermons that are relevant to life came in a close second. This should not come as a surprise to followers of Jesus Christ. My philosophy of ministry as a Pastor is shaped by the words and life of the Apostles in the early church, "We will give ourselves continually to prayer and to the ministry of the word" (Acts 6:4). Pray for your Pastor to dig deep in the Word of God daily.
2. A sermon that connects to life is second most appealing to churchgoers (74%).
You have heard me teach and preach on the importance of taking care of our depth and let God take care of the width and height. The deep call for the deep. When we are rooted in the Word of God, we can direct people to the right path. You have heard me say many times, "Real people have Real Issues and the Right God has the Right Solution." Pray for your Pastor to stay connected with God and be in sync with people's needs.
3. Children and Youth programs are a major factor that draws people to church (64%).
Our Family Life Pastor stresses the importance of shepherding the hearts of our children and youth. We are not only training the children and youth to walk in the ways of the Lord, but we are shaping the hearts of children and youth after the heart of God. We strive and prepare to provide quality discipleship and mentoring in our Family Life program. We always strive for quality first (quality over quantity). We work with the family as a unit. Children's ministry is not exclusive. Youth ministry is not exclusive. Parents should know what is happening with the church's children's ministry. Parents should know what is happening with the church's youth ministry. For these reasons we call it Family Life Ministry. Reaching and building one family at a time. Discipling one kid at a time. Pray for your Family Life Pastor, and that the youth leaders shepherd the hearts of the children and youth, and shape their hearts after God's own heart.
Gallup asked 1500 Americans why they attend religious services. Here are all the findings: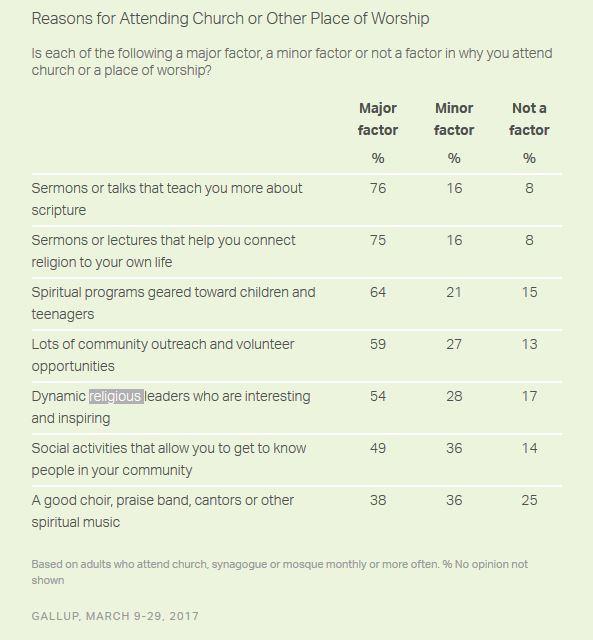 The Celebrate!
MAY 2017
READ MORE: