Everyone has Influence!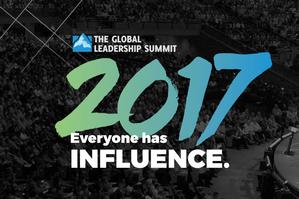 GLS
June 2017
Do you want to accomplish something worthwhile in your life? Do you want to help make a positive change in the lives of those around you? On your deathbed do you want to look back and say, "I'm proud of what I accomplished for God and others?"
If you do, we invite you to participate in this year's Global Leadership Summit (GLS) on Thursday & Friday, August 10-11.
Everyone has influence and the ability to create positive changes. When you improve your leadership, you impact lives, churches, businesses, governments, schools, and families. So come join over 400,000 people around the world for two days of world-class leadership training.
This year's list of speakers includes:
Sheryl Sandberg - Chief Operating Officer at Facebook. Sheryl is also the best-selling author of Lean In, and her 2017 release, Option B, is an inspiring and practical book about finding resilience and moving forward after life's inevitable setbacks.
Marcus Lemonis - Marcus has many ventures on his resume, including the hit TV show, "The Profit." He is also the CEO of America's #1 source for RVs - Camping World/Good Sam. Additionally, Mr. Lemonis lends his expertise to other entrepreneurs, based on his evaluation system of three keys for business success: People, Process and Product.
Gary Haugen - Gary leads International Justice Mission (IJM), a worldwide agency that rescues victims of violence, exploitation, slavery and oppression. He is the author of three books, and has been featured in Foreign Affairs, The New York Times, and Forbes.
Laszlo Bock - While serving as Google's Senior Vice President of People Operations, Lazlo grew the company from 6,000 employees to more than 75,000. His New York Times best-selling book, WORK RULES!, has been published in more than 20 languages and has earned numerous honors.
You can learn about the rest of this year's speakers by clicking here.
For a look at this year's GLS speakers, please watch the following video:
You can sign up for GLS now by calling the church office at (408) 241-7635 or by using a Connection Card on any Sunday. For the first 12 people who register, we are offering the lowest rate available at $149 per person.
Let's grow in our influence!
The Celebrate!
JUNE 2017
READ MORE: