Message from the Board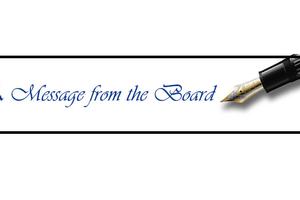 Nicole Wiesen
September 2017
Message from the Board
"Now all glory to God who is able through His mighty power at work within us, to accomplish infinitely more than we might ask or think. To Him be glory in the church and in Christ Jesus throughout all generations, forever and ever. Amen."
Ephesians 3:20-21
The past ministry calendar year ran from September 2016 through August 2017. Here is an update on how our church met its ministry goals. We can see how God has faithfully been working to produce spiritual fruit and increasing the harvest for His kingdom. Thank you for letting God use you to touch so many lives as we live to serve our Lord, love Him more, and love one another. We are ordinary people who serve an extraordinary God!
GOAL #1: CONNECT 10 NEW FAMILIES INTO THE BODY OF SCFBC
We connected 13 new families.
GOAL #2: CAMPUS ATTENDANCE (increase by 7%)
Campus attendance is down by ~1%. We've connected with many people, but many families also moved out of the area.
GOAL #3: WIN A MINIMUM OF 10 PEOPLE TO CHRIST
We welcomed 13 new believers.
GOAL #4: BAPTIZE A MINIMUM OF 15 PEOPLE
We baptized 10 people.
GOAL #5: LIFE GROUPS (at least 70% of the congregation participating in at least two Life Groups)
We reached 77% participation.
GOAL #6: INCREASE BASIC CONGREGATIONAL GIVING (by a minimum of 7%)
We were below our giving goal.
GOAL #7: SERVICE (at least 50% participation in at least one form of social ministry)
74% of the congregation were involved in general ministries outreach, and 37% were involved in one or more forms of social ministry.
GOAL #8: LEADER DEVELOPMENT: (at least 30% of those who regularly attend church serve others as leaders)
We exceeded the goal by 10%, with 14 new leaders this year. The new, updated leadership development goal for 2017-2018 is to add a minimum of 11 new leaders who have not led before.
We have started a new ministry year this month. The Board is excited about what God will continue to do, in us and through us, by trusting in His plans for the church. By faith we believe that He will do infinitely more than we ask for or can imagine. Our God is able to do all things by His mighty power at work within each of us.
Please read Pastor Valui's article about this year's new goals. The staff and Pastor Valui have prayed earnestly, seeking to know God's will and direction in developing these new goals.
We thank them for all their hard work, dedication, love for the Lord, and love for the church. I encourage all of us to continue praying for the church, our community, and the world to know and grow in Christ Jesus our Lord.
The Celebrate!
SEPTEMBER 2017
READ MORE: