The 11th Commandment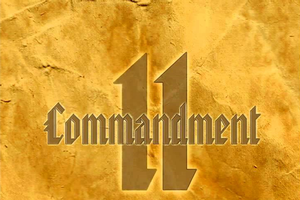 Pastor Valui
September 2017
GREAT EXPECTATIONS
We serve a Great God who has done Great things from the beginning (All His works are great). I believe our Great God wants us to expect great things from Him. So we: "Expect Great things from a Great God."
GREAT FAITH God is able to do Great things, far beyond what we can understand. I believe God wants us to comprehend His great width and length, and His great depth and height, so that we may be filled with the fullness of God. So we: "Believe God will exceed our expectations above what we ask."
GREAT POWER God has given us Great power. We must have faith and believe we can accomplish His work according to the power that works in us. So we: "Believe God will give abundantly above what we ask."
10 GOD-SIZED GOALS
We have set 10 God-sized goals for this ministry year. Our goals are directly related to the God-sized vision (Vision 2020) of our church. We believe in the God-sized dreams for our church. We are all part of God's dream. We are God's dream team and we expect a God-sized increase in all of these 10 goals.
The 11th COMMANDMENT "Command the Mountain to Move" will be the Fall Sermon Series. Get ready for 10 daring faith sermons on 10 God-sized goals.
1. SHARING THE GOSPEL
2. CONVERSIONS
3. BAPTISMS
4. NEW CONNECTIONS
5. CAMPUS ATTENDANCE
6. SOCIAL MINISTRY
7. GIVING
8. LIFE GROUP ATTENDANCE
9. PRAYER
10. LEADER DEVELOPMENT
As the Pastor of this church, I want to reveal to God's dream team that God-sized visions and goals almost always involve "taking risks and making sacrifices."
Let me leave you with these audacious words that will blow you away: "Now to Him who is able to do exceedingly abundantly above all that we ask or think, according to the power that works in us, to Him be glory in the church by Christ Jesus to all generations, forever and ever. Amen." (Ephesians 3:20-21)
The Celebrate!
SEPTEMBER 2017
READ MORE: