3 Things SCFBC Members Said About Their Pastor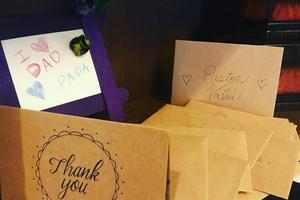 Wungreiso Valui
November 2017
3 Things Church Members Wrote To Pastor Dubs
I want to express my gratitude to all members of the church for your generous words and encouragement. October was Pastors' Appreciation Month, and I received many "Thank You" cards. Every card was different, but there were three common expressions and words that lifted my spirit. Please allow me to share them with you.
1. THANK YOU FOR PREACHING THE WORD
Your gratitude was beautifully expressed and your words blessed my soul. You thanked me for preaching the word of God with boldness and courage and thank God for calling my wife to this church for such a time as this. Your affirmations are a confirmation of the vision and mission of the Church. Our church has been in what is now called the Silicon Valley since 1850, and is still standing. When we stand strong on the word of God, we will stand tall to serve and lead the city. The uncompromising word of God is the antidote in a compromising world. This is my brand of preaching, choosing "Holy Over Hip." Holiness brings healing, hope and courtside access to God. Yes, we would rather be holy than hip! Without the Word, my calling has no power to change and transform people's lives. Without the Word, there is no real preaching, just talking, shouting and yelling.
2. THANK YOU FOR YOUR PASSION FOR THE GOSPEL AND THE KINGDOM OF GOD
My primary call is to the ministry of the Gospel. People who are seeking God, People who are lost continue to be priority. The compelling vision of my Leader and Savior, who came "to seek and save the lost," is my primary task. Seeking righteousness and the kingdom of God may not be a popular thing these days. These may not be foremost in the minds of those who profess to be followers of Jesus Christ. So many other things are pulling away our focus and efforts on all sides. We must patiently wait on the Lord and continue to faithfully seek first the kingdom of God and His righteousness. Wait on the Lord and keep doing what He has instructed us to do. I am a strong believer in "your labor of love is not in vain." Without the Gospel there is no church.
3. THANK YOU FOR YOUR LOVE AND CARE
I love our Church. Authentic and real relationships are an expression of love. I am humbled that you choose to love an imperfect pastor. Your love gives me immense freedom to be real and authentic. If there is any praise or credit, it belongs to God. He gave me the capacity to love this church. This is not of my own, but the outpouring of God's love in my heart and inner being to love the people I serve. My concerns for you are imperfect, but God's love is perfect. Without love there is no real relationship.
Thank you for taking the time to write and express what is in your heart. I am blessed.

P.S. I still have all the cards.