Maker Fun Factory VBS 2017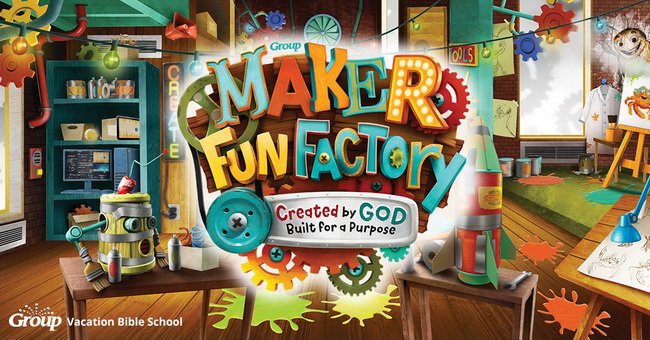 MAKER FUN FACTORY 2017 June 21, 28, July 12, 19, 26 - 6:30PM – 8:00PM
Each Wednesday at Maker Fun Factory, kids participate in Bible discovery, game makers, the imagination station, and more. It is all designed to help them discover practical ways to follow Jesus, the inventor and creator of the world! Not only will they experience exciting Bible adventures but they'll also watch for God in everyday life. You and your kids will discover that God is active in our lives and is more creative than they could ever imagine!
DATES:
June 21, 28, July 12, 19, 26

REG DEADLINE:
June 14th

AVAILABLE SPOTS:
4

COST
: FREE

TIME:
6:30pm - 8:00pm // Arrival & Check-In: 6:00-6:30pm

WHO:
Children age 4 - 11 (or K - 5th grade [currently in])

WHERE:
Santa Clara First Baptist: 3111 Benton Street, Santa Clara


We also have adult Life Group classes and Youth Group that happen at the same time.
Back to Basics [6:30pm]: Come dig in to the Bible to unlock how the Scripture applies to your purpose of life and existence. Real People have Real Issues. Real God has the Right Solutions. Make the Bible come alive in your life. signup
Un Cuerpo: The Spanish Gathering [7:15pm]: Un Cuerpo is God's universal vision for every tribe, tongue, people and nation" (Revelation 5:9). Multi-Ethnic, Multi-Lingual, Multi-Racial and Multi-National worship is God's vision. This gathering is for the Spanish-speaking population who are looking for a place to GATHER, GROW and GIVE their best to God and to one another. This is a place to: Connect to God and people; Pray in the language you understand; and Connect people to God with the language they understand. signup
Youth Group [6:30pm]: Jr High and High School students meet for bible study, dinner, game time, and worship. more info