Library Corner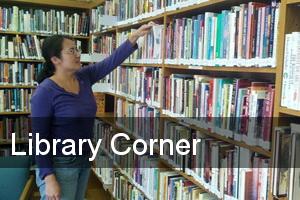 Jerri Cooper
for Library Committee
August 2013
The library will be purchasing August 2013 Leadership Summit books. There are many DVDs and books from previous Summits that you can enjoy in the meantime.
Book Nook
The books and DVDs displayed this month coordinate with Pastor Rich's sermon series illustrating how God can use His people to do Kingdom work.
Check out one of the following DVDs for a movie night:
Leadership Summit DVDs - Speaker presentations from previous years.
Paul, the Emissary - Saul who had a powerful conversion experience on the road to Damascus became Paul, the greatest missionary in the history of the early Church.
China Cry - A gripping true story of Nora Lam who's faith became real as she suffered persecution and refused to deny Christ.
Donations of time or materials
If you are interested in donating some time to help in the Library Ministry, please let Jenny Gregg know at jgregg@scfbc.org. There are several on-going projects to utilize your talents such as stocking the Book Nook, reviewing or organizing materials in the library.
If you have a suggestion for library materials, please write it on the back of a Connection Card. Thank you for enjoying the Library materials and for making continued donations of materials and monetary to the "Library". We hope you found a book this summer to add to your summer relaxation.
Library Purpose Statement -The purpose of the Santa Clara First Baptist Church Library is to glorify God by providing resources in a variety of formats that uphold the mission of the church, strengthen and promote the spiritual growth and maturity of our congregation and leaders, and be a resource to the surrounding community.
The Celebrate!
AUGUST 2013
READ MORE: