Transforming Truths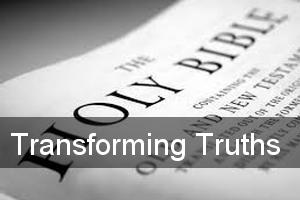 Pastor Rich
September 2013
What you believe affects everything about your life. What you believe about God affects not only everything about your life but about your eternal destiny as well. That's why the apostle Paul encouraged us in Romans 12 to be "transformed by the renewing of our minds."
On Sunday, September 15, I'll begin a new message series entitled "Transforming Truths." For eight weeks we'll examine eight life-transforming truths about the God we worship and about our lives lived together as God's family.
Here's the list:
September 22

The Father who rules

September 29

The Son who saves

October 6

The Spirit who empowers

October 13

The Bible that enlightens

October 20

The Church that serves

October 27

The Life that worships

November 3

The Prayers that change everything
What you believe really matters! See if what you currently believe (and act upon) is in line with the wonderfully encouraging and empowering truths of God.