Worship in the Park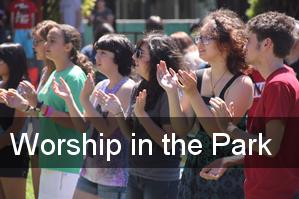 Sharon Cintas
Worship Director
September 2013
What an amazing day at the park! On August 25th, we gathered for worship, music, fun and great food. A friend of mine who came told me that she was moved to tears by the message of God's love that was communicated though the music, the pastors' words and the testimony of Rui Cardoso. Rui shared his own story of how God has always been there, drawing him in even from the depths of his depression and unbelief. Sharing the story of God's love is why we do events like this. Like all of us, my friend is on a journey of faith questioning whether God is real and if it makes a difference in her life. Her story is just one of many, I'm sure.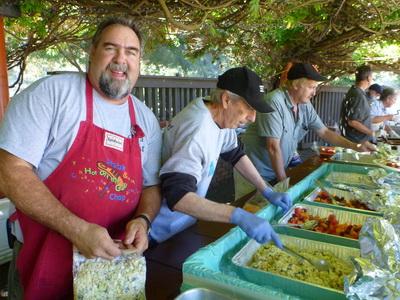 Adam Burdick reports that we barbecued 160 lbs of chicken and served 331 people lunch! Thank you to the master chef and everyone who helped prepare and serve lunch and a big thank you to Suzie Jhang for making the delicious marinade for all that chicken.
It takes many hands to move our worship service out to the park so I'd also like to thank everyone who did the heavy lifting setting up all the sound and music equipment. Jerry Cintas and Carl Sweet put their considerable engineering skills to the test to fix the sound board, soldering connections and sending up a few prayers along the way so that we could worship God out in the open at Central Park.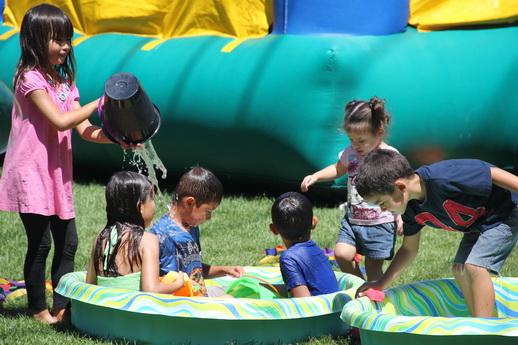 Worship in the Park is good fun for all ages. The children had a great time playing with water, jumping in the bounce house, blowing bubbles, face painting and shooting off rockets. Thank you to all of the volunteers who played with the kids. It was wonderful to see so many people with their "Here to Serve" SCFBC t-shirts representing God and our church in the community.
As we celebrate and reflect upon this event, think about where God has intersected in your own life and the story that you have to tell.
Come, let us sing for joy to the Lord; let us shout aloud to the Rock of our salvation!