Supporting Our Outreach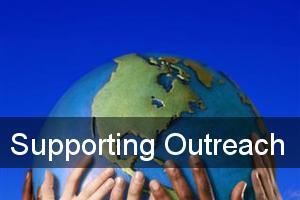 Pastor Rich
Senior Pastor
December 2013
Last Sunday SCFBC voted to expand its support of our outreach endeavors. Deacon Jim Garvey and his team presented the new Missions Budget for 2014 which was approved by the congregation at our November Annual Meeting.
This budget increases our support of the various mission projects and people resourced by SCFBC through its generous giving. The specific designees are listed on the table below.
It's very important to recognize that each contributor must intentionally designate their giving to mission. Monetary gifts not so designated automatically go to our General Fund ministries.
To specify how much of your offering goes to Missions you must use the "Missions" line item on a contribution envelope or write the word "Missions" and the amount given on your individual check.
Thanks for your continued support of the Great Commission to reach the world Christ.
Mission Giving (Allocations) for 2014
Name
Annual Goal
Percentage
Correctional Institution Chaplaincy Ministries
$2,100
4.7%
CityTeam (San Jose)
$3,400
7.6%
Puente de Vida School - Rancho el Refugio
$2,800
6.2%
Global Outreach
$3,300
7.3%
Sacred Heart
$2,600
5.8%
Redwood Glen Camp
$2,700
6.0%
Local outreach & evangelism
$4,300
9.6%
Regional Ministries (Growing Healthy Churches)

$3,800
8.4%
AB International Ministries
$3,800
8.4%
AB National Ministries
$3,800
8.4%
Seafarer's Ministry
$2,800
6.2%
AB Seminary of the West Operating Budget
$1,500
3.3%
Mylinda Baits- Special interest missionary

$2,700
6.0%
Lauran Bethell- Special interest missionary

$2,700
6.0%
Glen & Rita Chapman-Special interest missionaries

$2,700
6.0%
Total (Goal)
$45,000
Special offerings (goals)


America For Christ
$2,200
One Great Hour of Sharing
$3,000
World Mission Offering
$3,400
Retired Ministers & Missionaries
$1,000
Total
$9,600
GRAND TOTAL
$ 54,600