All Things New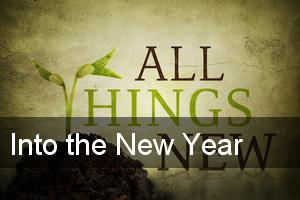 Pastor Rich
Senior Pastor
January 2014
As we journey into 2014 our thoughts naturally gravitate towards the "New." New Year's resolutions, new opportunities, new possibilities, new chances to begin again.
This New Year will certainly continue the process of SCFBC's journey into a fresh future. With the new Bylaws now in effect, our style of governance has changed. For most of you this change will hardly be noticeable. The life and work of our church will continue as it has before: worship services, Life Groups, mission endeavors. Behind the scenes your staff and leadership board will continue to perform their ministries of prayer, discussion, and governance.
What will need to change however is our hearts. If we are going to take our vocation as Christ's disciples seriously, we must be constantly moving into new areas of thinking, feeling, and doing. Jesus loves us as we are right now but doesn't want us to stay there. Just as parents desire to see their children grow, so He wants to see us grow in maturity.
What could be your next step of growth, your new thing?
Making Sunday worship a priority in your schedule?
Reading the Bible more consistently?
Joining a Life Group for the first time?
Beginning to give financially on a percentage basis?
Praying for opportunities to share your faith with others?
Let God's Spirit speak to you about your next step for Him.
The Celebrate!
JANUARY 2014
READ MORE: