Guess who's Coming to Dinner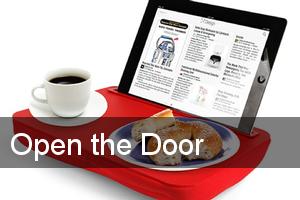 Jenny Gregg
Director of Spiritual Formation
March 2014
Serving Jesus TV Dinners
Ever had a moment when you realize you've misunderstood something for as long as you can remember? For me, that happened when I read God's warning to the churches in Revelation. First, the parallels between the churches in America and Laodicea floored me. God pulls no punches about His disgust with lukewarm Christianity:
"I know you inside and out, and find little to my liking. You're not cold, you're not hot—far better to be either cold or hot! You're stale. You're stagnant. You make me want to vomit." (Rev. 3:15-16 The Message)
Ouch! I can't get around the belief that He's speaking to us today with the same warning. The good news is that He assures us that "the people I love, I call to account—prod and correct and guide so that they'll live at their best. Up on your feet then! About face! Run after God!" (Rev. 3:19 The Message)
Guess Who's Coming to Dinner?
My light bulb moment came with the verse that I always heard as an invitation for unbelievers to ask Jesus into their hearts: "Here I am, I stand at the door and knock. If anyone hears my voice and opens the door, I will come in and eat with him, and he with me." (Rev. 3:20 NIV)
But He's not talking to unbelievers; He's talking to those in the church who have already accepted Jesus as their savior, but have kept Him at arms' length—and He's begging them to change! The New Living Translation makes it clearer: "Look! I stand at the door and knock. If you hear my voice and open the door, I will come in, and we will share a meal together as friends."
So how are you treating Jesus? He wants to hang out with you, and for you to enjoy Him, like friends around the table. Are you taking Him up on that or do you just nuke a couple of TV dinners and take yours into the other room?
My interpretation of Revelation 3:20 might read like this: Here I am—right at your kitchen table. Won't you join me? We could eat together, and you could tell me about your day. We could laugh, and even cry together, and if you want, we could do it again any time. Because I love you.