Book Nook and Library Corner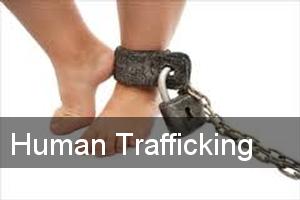 Jerri Cooper
Library Team
April 2014
Book Nook and Library Corner
The youth department recently joined together and learned about the lost childhood of children by forced labor. They even spent a weekend last month experiencing it. As a follow-up, we want you to know that there are several books and DVDs in the SCFBC Library that speak about the injustice of child forced labor and human trafficking. The more we learn about these injustices the more we can work towards helping to eradicate the atrocities. The following material is being featured this month so you can learn more:
Books:
Another Man's War - a true story of one man's battle to save children in the Sudan
Not For Sale by David Batstone - exposes the alarming rise of one of the great moral crisis of the day
Not on Our Watch - the mission to end genocide in Darfur and beyond
A Long Way Gone: Memoirs of a Boy Soldier - a gripping story of a 12 year old soldier
Children of Hope - Be touched. Be inspired. Be changed.
Half The Sky - a call to arms, a call for help, a call for volunteers to eradicate the oppression of women
I Am Nujood, Age 10 and Divorced - story of the first child bride in Yemen to win a divorce
DVDs:
Invisible Children– about African children forced to be soldiers
HARK—short film directed by our own Jonathan Fung about one of the harsh realities of human trafficking
God Grew Tired of Us - a documentary about three of the "Lost Boys" of Sudan
Library Team Life Group:
Please join the Library Team Life Group that meets Fridays at 9:00am for a work session. You can sign up for the Life Group via the church website on this page or join us on Friday mornings. Email Jenny Gregg at jgregg@scfbc.org or Jerri Cooper at jerri@scfbc.org if you have questions.