Worship in the Park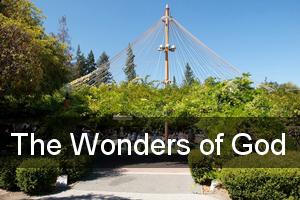 Pastor Rich
Transitioning Pastor
September 2014
When the apostles were empowered by the Holy Spirit on the day of Pentecost they spoke of the "wonders of God" to the crowd that had gathered to witness the event.
SCFBC followed their example at this year's Worship in the Park outreach. As usual we had an inspiring worship service led by our band followed by a scrumptious lunch prepared by our Manna food team. Our children's ministry provided a bounce house and lots of fun and games.
What made the day for me was the number of first-time guests who were brought by someone. The SCFBC family did its best job ever in asking and bringing a friend, neighbor, co-worker or relative to this event. This extended from a senior couple invited by a neighbor to the kids inviting their friends. One of our members grabbed some invitation cards and went through the park inviting anyone he encountered. Who would turn down a free lunch, right?
All this resulted in this year's Worship in the Park being the best one ever attended. Each of these guests was exposed to the wondrous Gospel of Jesus Christ. Each heard of a God who made them, loves them, redeemed them and invites them to experience His embrace.
We are beginning to understand why we are here. SCFBC exists to bring salt and light into a drab and dark world. We are God's ambassadors. We are here to bring as many as we can into the fold of God's family. This event was a solid step in achieving our mission.
Well done, Church!