Food Pantry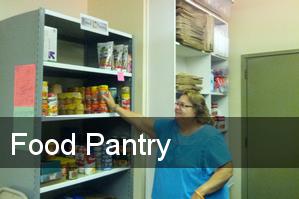 Jerri Cooper
Connections Team Co-Coordinator
November 2014
Food Pantry Donations
Would you like to help those in need by donating non-perishable food items to the SCFBC Food Pantry?
Items we collect to distribute are canned tuna, chicken or other canned meats, canned soup, canned vegetables, canned fruit, canned beans, canned spaghetti sauce, macaroni and cheese, peanut better, jelly, pasta, rice, pudding or jello, toothpaste and toothbrushes. Special items we like to include for the holidays are cake or biscuit mixes, cranberry sauce and olives. We also need grocery bags with handles.
Non-perishable food items are accepted and distributed to those in need. Food bags can be picked up at the church office weekdays from 10:00am to 3:00pm. The bags are available on a once-a-month basis to people who attend SCFBC or friends in need. Over 150 food bags are given away annually, and last Thanksgiving and Christmas six families were helped with holiday dinner "starter kits."
Thank you for considering this ministry. Please place your donations in the SCFBC Library red box at the end of the Information Desk in the Sanctuary Lobby.
Thank you from the Connections Team.
The Celebrate!
NOVEMBER 2014
READ MORE: