Library Corner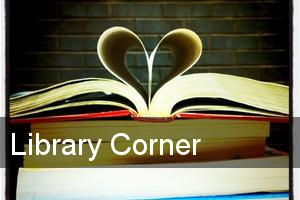 Jerri Cooper
November 2014
Book Nook and Library Corner
WOW! Did you see in the October Celebrate article stating that in 2015 the SCFBC Library will be moving to Rooms 19 and 20? That is a few months away!. In preparation for that move, the library team is in the process of evaluating all the materials on the shelves and discarding some of the old ones. We were able to donate four boxes of unread books to the October Rummage sale and fortunate to pick up a few new books for the library. Thank you for your donations and consideration for new library materials.
New DVD Materials
The Bible - ten part mini-series produced by Mark Burnett and Roma Downey
God Is NOT Dead - an interesting freshman college student dilemma
A Letter for Joe - a fun modern day retelling of the Biblical story of Joseph and learn about forgiveness. Initially you might get upset because Joe's brothers and friends were making fun of him but as you keep watching you see God was taking care of Joe.
LibraryWorld Search for iPhone: I hope you are having success in using the on-line SCFBC Library look-up or by using the LibraryWorld Search for iPhone app. You can access the SCFBC Library database from the www.scfbc.org website. Click on the Library block, then on the next screen click on the "Search Here" block. If you know the name of the book or its author, you can enter it into the blue rimmed box and click on the blue box to see if it is available in the SCFBC Library. We process new books, DVDs and CDs into the library each week.
Thank you for enjoying the SCFBC Library!
The Celebrate!
NOVEMBER 2014
READ MORE: