Pastoral Search Committee Progress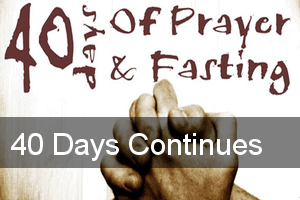 Andrew Wong
Pastoral Search Committee Chairman
November 2014
In October, the Pastoral Search Team posted the profiles and videos to our website. They can be found here www.scfbc.org/search. In addition, we have continued to evaluate some candidates and are in the process of scheduling interviews with their references.
We covet your prayers throughout this process and thank you for your support. The 40 days of Prayer/Fasting was kicked off October 5th and will continue until November 14th. We ask you to set apart some time to specifically pray for the process and our team. We still have some open slots that we would like filled. You can use the link below to sign up for a day to cover this process in prayer.
http://www.scfbc.org/40-days-of-prayer.cfm
As always, if you have any questions or comments about where the search process is, do not hesitate to contact any of us. You may be the voice of God that we need to hear!
The Pastoral Search Team
Jerri Cooper, Gary Dong, Jonathan Fung,
Greg Robbins, Lisa Robinson, Laurence T, Andrew Wong
The Celebrate!
NOVEMBER 2014
READ MORE: