The Fine Print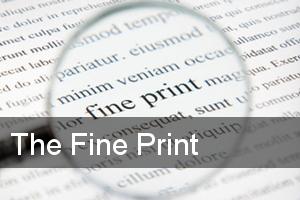 Jenny Gregg
Director of Discipleship
December 2014
Have you ever tried to open a new account or download a new app? First, you're presented with a huge amount of fine print and then asked to click "agree" if you want to get to the good stuff. And what do most of us do? We click the "agree" button without even trying to read through the fine print.
In a well-intentioned effort make it as easy as possible for people to 'be saved', the Church has unfortunately watered down the message of the Gospel about being a disciple of Christ. In this overly simplified scenario, we accept Christ as our Savior, and then go our merry way—confident that when we die, we'll go to heaven.
The rationale for this approach was that if we make it as easy as possible, more people would become Christians now, and then we could fill them in on the details later. The consequence of this approach, however, is that we now have churches filled with lukewarm believers who think that actively and wholeheartedly seeking God (discipleship) is purely optional. After all, that's not what they signed up for!
The problem is that Jesus never used this "optional discipleship" approach with the gift He offers. He said, "Whoever wants to be my disciple must deny themselves and take up their cross daily and follow me. For whoever wants to save their life will lose it, but whoever loses their life for me will save it." (Luke 9:23-24)
Full Disclosure
We must be completely honest about what is involved in being a follower of Christ—with others and with ourselves—so that people can make informed decisions. Accepting God's gift of salvation, which is free, ironically costs us everything—every part of our life.
But not following Jesus costs us even more. As Dallas Willard puts it:
Nondiscipleship costs abiding peace, a life penetrated throughout by love, faith that sees everything in the light of God's overriding governance for good, hopefulness that stands firm in the most discouraging of circumstances, power to do what is right and withstand the forces of evil. In short, it costs exactly that abundance of life that Jesus said he came to bring.
The point of this article is not to give a to-do list of spiritual chores that will please God, it is to encourage each of us to examine ourselves and see if we're trying to keep some parts of our lives under our own control, and urging us to finally let go. We can trust that God wants the very best for us.
Stay tuned for Part 2…
The Celebrate!
DECEMBER 2014
READ MORE: