Campus Improvements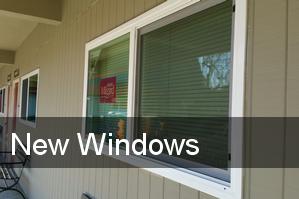 Jerry Cintas
Director of IT and Facilities
April 2015
NEW WINDOWS FOR CLASSROOMS
This week new windows were installed in the children's classrooms. This has been a long overdue project that has been talked about for years and has finally happened. We were able to use some extra money from 2014 to fund this project. The new windows will help with the temperature in the rooms, rear alley privacy, and the appearance of the front of the church. Plus, they are very easy to open now so we can let fresh air in.
NURSERY REMODEL
We are deep into a major remodel of the Nursery rooms. Adam Burdick, Duane Esquibel, Kevin Prather and Lloyd Darknell have been working hard on demolition, rough plumbing, rough electrical, and framing. The room is going to look great when it is complete and have more changing tables, hand washing sinks, storage, tile, a larger lobby, and other great features.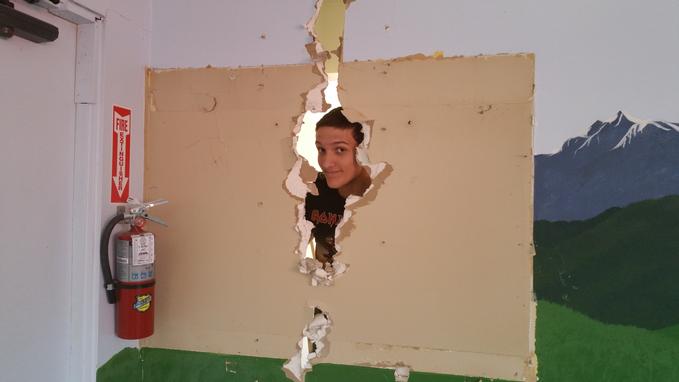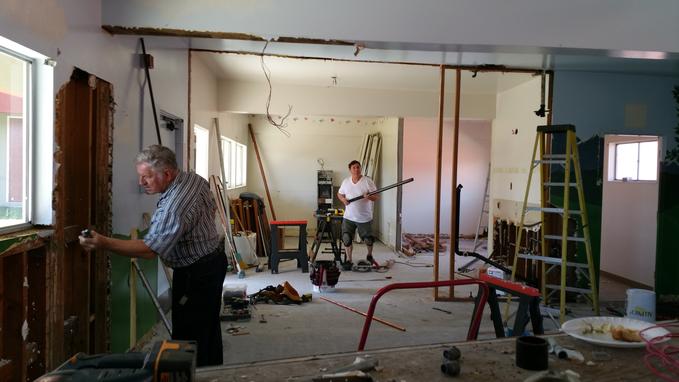 FIRESIDE ROOM REPAIRS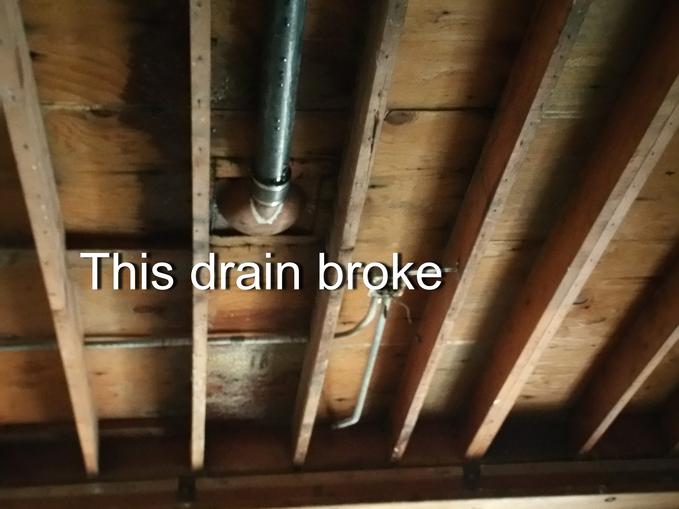 The Fellowship Hall Fireside Room ceiling was damaged in early February by a drain pipe break in the ceiling which dumped large quantities of water into the room, damaging the ceiling and carpet. Our insurance is covering the cost of replacement and the room should be back up and functional by Easter with new carpet and ceiling. We also took the opportunity to put in some conduits and power to the ceiling for when the room eventually gets converted into a permanent children's worship room complete with projector, stage, sound, lighting, and a solid wall with door in place of the failing accordion door.
NEW LIGHTS IN CLASSROOMS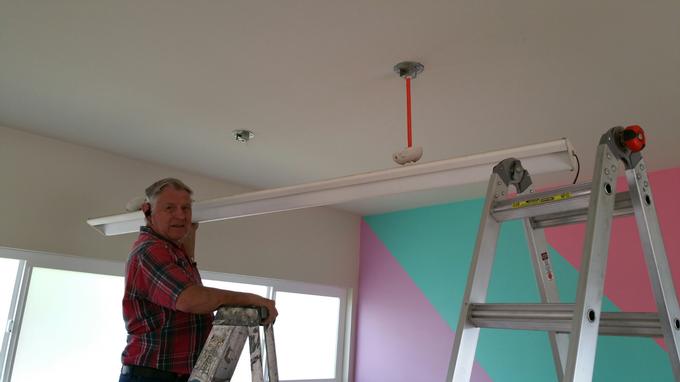 The old hanging 1960's lights that were in the Preschool and K/1 classrooms have been removed and newer ceiling mounted lights have been installed. This should help make the rooms feel a more modern. There is still more work to do on those two rooms with furnishings, paint, and décor.
KITCHEN UPGRADES
The installation of the new hot water heater and refrigerator are complete and both are working great. We took the opportunity to remodel and paint the custodial storage area behind the kitchen and do drywall repairs, add a new cabinet, and re-paint. Thank you to Jun Lagmay for painting the room for us.