Holy Week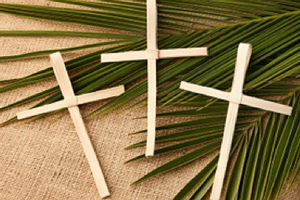 Pastor Rich
Transitioning Pastor
April 2015
The week of March 29 through April 5 is the most sacred of all weeks this year for the follower of Christ. It begins with Palm Sunday, proceeds through Good Friday and ends with God's final word about death on Easter morning.
It is our opportunity to reflect on:
The fickleness of the human heart- Those who cheered Christ on Palm Sunday were crying out "Crucify Him!" on Friday.
The self sacrifice of the Son- Jesus willingly chose to obey the Father and give up His life in our place.
The love of the Father- He initiated Christ's mission of love by sending Him into the world to save us.
Take time this week to let these truths sink deep within your soul.
Worship with us on Palm Sunday and give praise to the Son, the true King of Kings.
Walk with us on our Good Friday Journey to the Cross (10am - 9pm).
Celebrate with us on Easter Sunday at our Breakfast (9 - 10am) and Easter worship service (10:30am).
Be sure to invite someone to come with you so that they too can experience the story of God's goodness to us all.