SPEEDway Happenings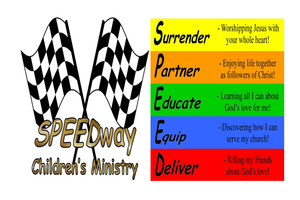 Susi Reaves
Interim Director of SPEEDway Children's Ministry
April 2015
So much is happening at SPEEDway Children's Ministry these days!! From the renovation of our Nursery rooms and the Kids Worship area in the Fellowship Hall Fireside Room…To starting to use curriculum that allows all of our kids from toddlers to the 5 th graders to learn the same lesson each Sunday…To preparation for Easter Sunday and a Family Dedication on Mother's Day…Read on to learn more….
ONGOING RENOVATIONS
There is more news about the ongoing renovations in the facilities article; the kids look forward to resuming use of the Fireside Room for Kids Worship on Easter Sunday, and I am grateful for the many people who have worked to make the room ready for use after only 8 weeks following the room's flooding in early February.
EASTER SUNDAY
Easter Sunday will be special for the SPEEDway kids. After sharing a scrumptiously delicious breakfast with the church family and friends, the children will check in for SPEEDway and have some time to play outside before coming in for a special Easter lesson and craft that reiterates the story. If you bring family or friends who have not registered for SPEEDway this school year, please bring their contact information (parents' names/full address/phone number/email address, date of birth, etc) with you when you register them that day. Registration and check-in will begin at 10:00am.
TEAM FOCUS
Each Sunday a craft is planned for our elementary kids that reiterates the Kids Worship lesson. Kemi Porto, the Craft Zone Team Leader, thoughtfully prepares the materials needed for each Sunday's craft and ensures that her team members have the instructions necessary to successfully lead the kids in making their take-home creations. Joining Kemi on her team are Gail Bock, Unice Chang and Barbara Chicks, each serving one Sunday each month.
SPECIAL SERVICE WITH OUR KIDS
The 2nd-5th grade kids thoroughly enjoyed their time with Virginia Newcomb, Gladys McFarland and Barbara Chicks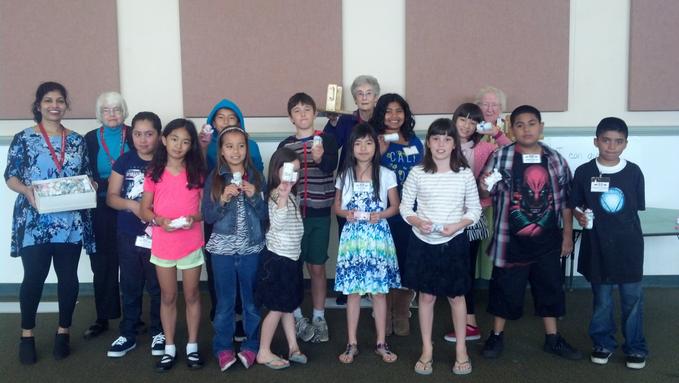 on March 22nd. Twelve kids rolled 30 bandages (each 5 yards long) in only one hour and had a great time in the process. These bandages will join other 'White Cross' shipments to Africa to be used by medical missionaries there. When asked if they would like to do something like that again, the kids shouted out an enthusiastic "YES!!"
AND THERE IS MORE!!!
Be sure to check out the Celebrate article about Family Ministries coming up during the next two months!
---
The Celebrate! - APRIL 2015
READ MORE: