Family Ministries for Parents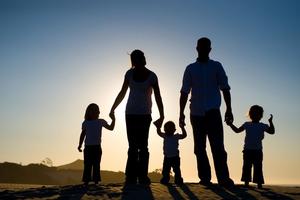 Susi Reaves
Interim Director of SPEEDway Children's Ministry
May 2015
Deuteronomy 6:5-7 tells us "Love the Lord your God with all your heart and with all your soul and with all your strength. These commandments that I give you today are to be on your hearts. Impress them on your children. Talk about them when you sit at home and when you walk along the road, when you lie down and when you get up."
That's pretty much all the time.
Family Ministries gives parents the opportunities to impress the God's Word into the lives of their children. Here are a few events coming that can help…
FAMILY DEDICATION CELEBRATION
On Mother's Day the church will celebrate with some young SCFBC families as they present their children and themselves to the Lord. Be sure to be a part of this special worship service as we commission these new parents in their ministry to their children.
PARENT AS COACH SEMINAR
May 30th is when parent and teen coach Diana Sterling comes to Santa Clara First Baptist. Look for the Celebrate article about the seminar to learn more.
FAMILY WORSHIP SUNDAY
I've heard it said, "Children are the future of the Church" but in reality, children are the Church now. On May 31st, the K-5th graders will be joining the larger church family for a Family Worship Sunday. That Sunday will culminate our Kids Worship series on 'Worthy Worship'. Thank you, SCFBC family for welcoming our kids to 'big church' on that day.
PARENTING LIFE GROUP RESOURCES
Two Life Groups for parents are being offered during the upcoming summer trimester.
Parenting by the Book using John Rosemond's book by the same title is especially designed for parents of children under age 13. This group will meet on Sunday mornings at 9:15-10:15 while there are age-appropriate classes for children and youth.
Guest Pass: Access To Your Teen's World will be offered on Wednesday evenings while the youth have their weekly meeting, making it easier for parents of teens to attend.
Parents, be sure to take advantage of these resources sure to help you better raise your children to become men and women of God. Sign up using the green cards in the Sanctuary chair pockets or online at SCFBC Life Groups.
The Celebrate!
MAY 2015
READ MORE: