Library Corner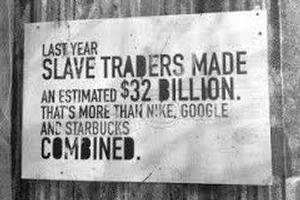 Allison Fung
May 2015
America's largest community-based anti-human trafficking event is happening on May 9th, 2015 at Levi's Stadium - the new home of the San Francisco 49ers. The event will feature prominent local and national trafficking experts, survivors, Congressional delegates, athletes and musicians.
Human trafficking doesn't just happen overseas, California is a top destination for human trafficking in the United States. We have several resources within our library to help you learn about the many forms of human trafficking and how you can make a difference – it starts with education!
MOVIES

Directed by one of our members, Jonathan Fung, Hark is about a man who is confronted with a moral dilemma to save his own life or risk the life of another.
Set in Calcutta's notorious red-light district, Born Into Brothels explores how art and education can empower children to transform their lives.
Three young college students from the USA go to Africa to expose the genocide currently going on in Sudan and Uganda in the documentary, Invisible Children.

BOOKS



Not for Sale is a must-read to see how you can join the fight against the great moral tragedy of human trafficking.
Ever ask yourself, "What am I doing here?" Go and Do dares you to go out into the world, witness the edges of humanity and then do something about what you see.
What is war like for a child soldier? How does one become a killer? A Long Way Gone is a first hand account of someone who came thru this hell and survived.
The Call of Service examines volunteer work and activisim. Volunteer work can transform those who heed the "call of service," even though they frequently experience doubts and misgivings.
Gary Haugen's challenging and encouraging book Good News about Injustice offers stories of courageous Christians who have stood up for justice.
Free the Children is the moving story of one child's transformation from a normal, middle-class kid from the suburbs to an activist, fighting against child labor.
BROWSE THE SCFBC LIBRARY FROM HOME OR ON THE GO
You can browse the library catalog online at http://www.scfbc.org/library.htm or directly from your Apple or Android device. Simply download the LibraryWorld Search app FREE from the Apple or Android AppStore.
Once downloaded, enter "SCFBC" in the Library Name field (no Password needed) and you're all set!


The Celebrate!
MAY 2015

READ MORE: