Summer Fun at SPEEDway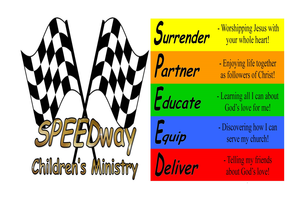 Susi Reaves
Interim Director of SPEEDway Children's Ministry
June 2015
This summer looks to be filled with fun at SPEEDway Children's Ministry.
Our Nursery classroom renovation should be completed this summer giving our babies and toddlers/2's a wonderful room to use each Sunday. My sincerest gratitude to Jerry Cintas and the hours of work he and his team are taking to make this room inviting and functional for our youngest SPEEDway members and their parents. Thank you also to the parents and Nursery Team who have never complained about the temporary nursery location. Your patience through the past several months has been gracious and much appreciated.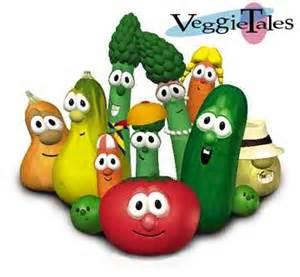 Our Preschool class will be having tons of fun with the Bob, Larry and all the VeggieTale gang every Sunday this summer. Pat Graham and her preschool team will have lots of activities that help reiterate the video lesson shown each Sunday morning. All the fun starts on May 31st and continues through August 23rd.
The Elementary kids are also in for a special treat this summer! The Sunday school classes at 9:00 each Sunday will continue as they do throughout the year. The K-1st graders look forward to Mr. Bill's amazing lessons and activities each Sunday and our 2nd-5th graders will be exploring "My Volcano Adventure" and learn more of the Bible's origin, authority, message and purpose. Both classes will meet May 31st-August 16th.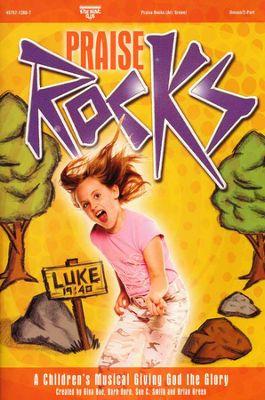 Then during the worship time June 7th-August 16th the K-5 graders will be learning more about praising God regardless of their circumstances as they prepare for their summer musical, Praise Rocks! Each Sunday the kids will have Bible lessons and fun activities, create their props and sets for the musical, and learn their dialog's, songs and choreography. This is a great opportunity for the kids to invite their friends to join in preparing for the musical that will be presented for the entire SCFBC family and friends during the worship service on August 23rd.
We look forward to sharing a great summer together at SPEEDway! Use these unique opportunities to invite your friends to join the fun!!