The Youth Did What??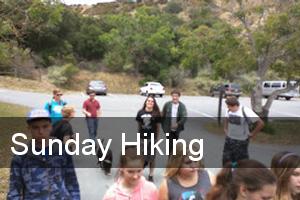 Youth Staff
June 2015
On Sunday after the worship service in early May, the youth hiked the trails at Lower Stevens Creek and enjoyed nature and spending time together. The youth also served at the Sunday Grill on May 24th. It was awesome to see them take over the Grill and serve the congregation.
We also continued our series on E100 in May, covering both the Old and New Testament portions of the Bible. The youth meet on Sundays at 9:15am and on Wednesdays at 6:30pm.
With graduations in June, we look forward to welcoming our new 6th graders into the youth group this summer. There are many fun summer activities being planned. Check the events calendar below to learn more!
Youth Staff: Mark, Kirsten, Matt, Kim, Jerry, Andrew, Mary and Danijela.
Upcoming EVENTS
June 7 - Graduation Sunday
June 10 - Summer Kickoff - Pool Party

More Events at scfbc.org/reflect