Golf Tournament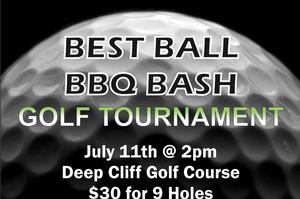 Jerry Cintas
July 2015
On Saturday, July 11th, SCFBC is hosting a Golf Tournament at Deep Cliff Golf Course. This is a great opportunity to invite a non-churched friend to come and play golf with you. Our church hosts these events so you can have an opportunity to connect your friends with others from the church.
The tournament will be in a scramble format where everyone drives the ball and then the best drive is chosen and everyone else moves their ball to that position and continues playing. Each time a best ball is determined everyone else moves their ball meaning you don't have to be the most consistent golfer, because even if you shank it, you can still play from a great position. Also for those golfers who occasionally get that once in a lifetime beautiful golf stroke that soars high and straight and right inline with the pin, everyone can use that position.
We will play the front 9 holes at Deep Cliff in Cupertino, startng at 2pm. The cost is $30 and includes a free BBQ meal back at the SCFBC campus. At the BBQ, prizes will be awarded for accomplishments during the game followed by some mini games on the lawn with our clubs. You must have your own clubs and bag to participate. Let Jerry Cintas jerry@scfbc.org or Darren Pozzi darren@scfbc.org know if you want to sign up and if you are bringing a friend.