Scratching Records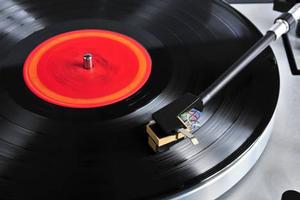 Jenny Gregg
Director of Discipleship
July 2015
Our thought life is often 'ground zero' for our sinful habits. Every human wrestles (or should wrestle), with any thinking that is contrary to the healthy, abundant, and victorious life that God wants for us. Although my particular vice may differ from yours, much of the battle for each of us starts and ends in the mind. Whatever the sin—jealousy, anger, bitterness, unforgiveness, lust, worry, the list goes on and on—acknowledging it is the first step to overcoming its grip on us.
This is where we need to rely on the Holy Spirit to open our eyes and put the spotlight on what needs to change. "Search me, O God, and know my heart; test me and know my anxious thoughts. Point out anything in me that offends You, and lead me along the path of everlasting life." (Psalm 139:23-24 NLT)
Grabbing the Needle
Once I become aware of a particular sin in myself, it is easy to be dismayed and hopeless by how often I repeat it. It's frustrating to notice and admit a harmful flaw in my behavior yet not stop doing it! But sins are usually ingrained habits, and habits are not dismantled overnight.
Thought patterns, like habits, are like vinyl records albums—the needle follows the grooves around and around, playing the same old tune. But catching ourselves in the act of thinking the harmful thoughts is actually one of the first steps to breaking the cycle. Even though we want to throw up our hands and give up, it helps to understand that the noticing itself serves a valuable purpose. Every time we catch ourselves in the act of the undesired thought pattern, it's as though we've grabbed the needle and scratched the record. Every scratch changes the record, and it gets harder and harder to play—eventually it won't be able to play at all!
Paying Attention to Mindfulness
One of the easiest ways for me stay ahead of my thought patterns, is to practice mindfulness. By this, I simply mean paying attention to the present moment. Many sinful thoughts result from dwelling on the past (anger, resentment, bitterness, unforgiveness), and others come from dwelling on the future (worry, fear, lust, greed). By really noticing what's going on in us and around us, we are much more likely to understand and derail those destructive trains of thoughts before they gain momentum.
For a follower of Jesus, being mindful means remaining focused on God (John 15). Eugene Peterson sums it up nicely in The Message: "But He's already made it plain how to live, what to do, what God is looking for in men and women. It's quite simple: Do what is fair and just to your neighbor, be compassionate and loyal in your love, And don't take yourself too seriously – take God seriously." (Micah 6:8).