The Youth Did What??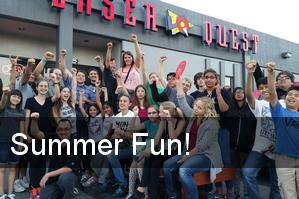 Youth Staff
July 2015
In June we closed our school year by having the youth share what they had learned throughout the past year. It was awesome to hear the stories of them growing closer to God, closer to each other as a family, and going deeper in their faith.
We kicked off our summer with a night at the church due to the thunderstorms that changed our original plans of a pool party. We enjoyed a night of games, including a carpetball tournament, while enjoying some pizza and soda. Another Wednesday, we went to Laser Quest, where Donya Bishop dominated both games! Way to go, Donya! The next week we went on a Mystery Night, where we ended up at Chuck E Cheese, enjoying pizza and games for the evening.
Please join us July 12 for Youth Sunday! We will be leading almost all elements of the worship service including music, greeting and ushering.
The youth meet on Sundays at 9:15am and on Wednesdays at 6:30pm. New youth are always welcomed in our group.
Youth Staff: Mark, Kirsten, Matt, Kim, Jerry, Andrew, Mary and Danijela.
Upcoming EVENTS
July 1 - Golfland
July 8 - Youth Sunday Practice
July 12 - Youth Sunday
July 15 - San Jose Giants Game
July 22 - Game Night at Carmichael Park
July 29 - Mall Hunt
More Events at scfbc.org/reflect