2nd Annual SCFBC Fun Walk/Run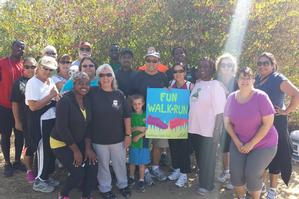 Raissa Mbassa
August 2015
"I plead with you to give your bodies to God because of all He has done for you. Let them be a living and holy sacrifice—the kind He will find acceptable. This is truly the way to worship Him." Romans 12:1 (NLT)
The SCFBC family and friends are invited to join in a walk/run on the Guadalupe Creek Trail the morning of Saturday, August 8th for 3 or 5 miles. The event is free, but registrations are required to participate.
The starting/ending point will be at the Mile 8 marker of the Guadalupe Creek Trail located at the end of Autumn Street, adjacent to the Target Store at Coleman and Autumn in San Jose. Bring your water and some snacks to enjoy along the trail.
5-Mile hikers will start at 8:00am.
3 Mile hikers will start at 8:30am.
Whether you are a novice distance walker or you run marathons, this event will be an opportunity to get to know other SCFBC folks in a fun and relaxed environment. Be sure to invite your family and friends to join you; children are welcome to accompany their parents. Certificates of completion will be handed out to all registered participants
Registrations are being taken through August 5th. Contact the church office (office@scfbc.org or 408-241-7635) to sign up.
For more information, contact Raissa Mbassa at raissa@scfbc.org.