THE YOUTH DID WHAT??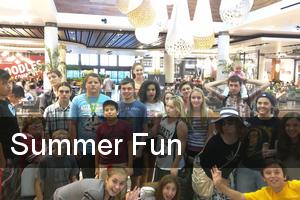 Youth Staff
August 2015
In July we continued our summer of fun by going to Golfland, a San Jose Giants game, playing a game of kickball at Carmichael Park, and going on our annual Mall Hunt.
Also in July we led worship on "Youth Sunday". It was awesome to see the youth once again serve as greeters and ushers, lead in worship songs, and share their testimonies of what God has done in their lives this past year.

Matt and Heather in disguise
Mall Hunt first place team!

Mall Hunt second place team!

San Jose Giants game
Sign ups for our annual summer retreat are open until August 5th. We are headed to Manresa State Beach, just south of Santa Cruz, for camping and beach fun the first full weekend of August. The cost is $50; contact Mary@scfbc.org or Andrew@scfbc.org to sign up.
The youth meet on Sundays at 9:15am and on Wednesdays at 6:30pm. New youth in Middle High and High School are always welcomed.
Youth Mentors: Mark, Kirsten, Matt, Kim, Jerry, Andrew, Mary and Danijela
Upcoming EVENTS
August 5 - Lip Sync Contest
August 7-9 Summer Retreat at Manresa State Beach
August 12 - Santa Cruz Beach Boardwalk
More Events at scfbc.org/reflect