Library Corner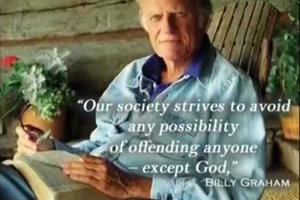 Allison Fung
September 2015
Billy Graham started out preaching on the street corners of Nashville and eventually became the most famous preacher in America. He's preached to over 215 million people all over the world, and has been voted one of the ten most admired men in the world 51 times in Gallup's poll.
Visit the SCFBC Library to gain insight on the man who is Billy Graham and the ongoing legacy he leaves upon the world.
MOVIES

Billy: The Early Years depicts the promising young Billy at the crossroads of faith and doubt, ultimately facing the moment of decision that launched one of America's most influential evangelists.
Louis Zamperini: Captured by Grace

chronicles Zamperini's remarkable true story from Olympic runner to WWII POW, and his return home and encounter with Jesus at a Billy Graham Crusade.

In the exciting action drama about a female medical missionary in rural South America, sent as part of the Billy Graham Samaritan program, Last Flight Out is a wonderful mix of suspense, drama and romance.

BOOKS

Billy Graham offers guidance and answers to the most-often asked questions about every aspect of life, including relationships, ethics, psychological issues and spirituality in Answers to Life's Problems.
In Footprints of a Pilgrim, Ruth Bell Graham weaves her prose and poetry together to tell her life story. Enjoy photographs of her journey from a child of missionaries to her marriage to Billy Graham.
The Billy Graham Story opens with Graham's humble beginnings as a farm boy, through his preaching to small audiences, and on to the heights of his international evangelism and impact on the world.
BROWSE THE SCFBC LIBRARY FROM HOME OR ON THE GO
You can browse the library catalog online at http://www.scfbc.org/library.htm or directly from your Apple or Android device. Simply download the LibraryWorld Search app FREE from the Apple or Android AppStore.
Once downloaded, enter "SCFBC" in the Library Name field (no Password needed) and you're all set!