Summer Musical Recap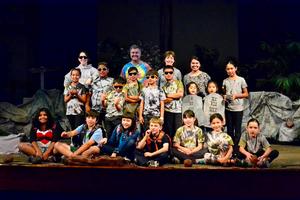 Susi Reaves
Interim Director of SPEEDway Children's Ministry
September 2015
On August 23rd, the hard work put in this summer by 16 of our SPEEDway elementary kids really paid off! "Praise Rocks" was amazing and the kids enjoyed presenting the musical to a packed house. What a joy to hear them sing and act so well. The Scriptural truths they taught our church family and friends were meaningful and well received. One person even called Praise Rocks the "best musical ever." I had several adults tell me that their hearts were deeply touched and even convicted by the songs and dialog and am so grateful to have had the opportunity to work with these wonderful kids who taught our church so well through this musical's message.
More "Thank You's" than I can say to Trisha Cooley, the Choreography Director, David Lageschulte, the Vocal Coach and Rehearsal Tech Guy, and Karena Bertos, the Activities Director (which means she basically did anything and everything I requested of her). These three were indispensable in preparing the kids for their performance!
Special thanks also need to be expressed to:
~Chris McLenegan for making amazing videos that illustrated two of the songs.
~Carmen Cintas for her drawings for Chris' video production.
~Tim McLenegan for being our extremely dedicated and diligent AV technician.
~Jenny Gregg for creating a beautiful set design (some in the audience thought they were
seeing real rocks).
~Laura Gregg and Jenny Gregg for helping the kids make their really cool "rock" t-shirts.
~Kimberly Stephens for guiding the kids in creating the wonderful Sanctuary walls decorations.
~Kemi Porto for teaching the kids how to make paper maché rocks.
~Eileen Flores and Karen Flores for making our twin tablets and some extra set design items.
~Rosa Flores for taking down the set the week following the performance.
~Jonathan Fung for arranging to have two of his film students, Megan Le and Serena Wong,
record the musical so each child's family can have a memory of the musical performance.
~The Parents who encouraged (and at times, challenged) their children during the long summer
rehearsal schedule.
~Everyone who came to watch the musical and support our wonderful and hard-working K-5
kids!
May we always remember that "PRAISE ROCKS!"