Melanie Baggao Inspires California Campers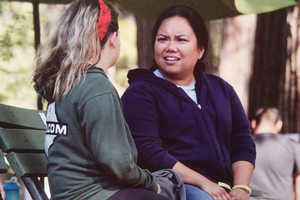 International Ministries
October 2015
Summer camps are often the source of mountaintop experiences of fun, games and worship for the children and youth who attend them. Memories and lessons learned can last a lifetime and even help influence important life decisions. This summer, at a Christian summer camp high in the San Bernardino Mountains of southern California, more than 300 teenagers experienced all that and something much more.
Thousand Pines Camp was the site of an innovative experiment in which campers got the opportunity to live alongside two global workers from International Ministries for a week. In a relaxed and fun environment, the youth were introduced, many for the first time, to the life and ministries of IM global servants.
Dozens of teenagers, their counselors and pastors took advantage of the opportunity to chat and build relationships with global worker Melanie Baggao, with positive results.
Melanie, a native of southern California, will begin Arabic language study in October at the Arab Baptist Theological Seminary in Lebanon in preparation for future ministry in Arabic-speaking cultures.
Melanie engaged the campers with impromptu conversations around dining hall tables. A highlight of the week for her was helping a high school senior with the next steps in his call to serve in the East African nation of Malawi. She also helped another teenager discover ways the young woman could put her faith into action in her community and through short-term mission trips.
During her time at camp, Melanie was invited to speak to a church youth group, where she "could see the wheels turning" in some 50 youth who had little previous exposure to global mission.
What did Melanie think about their participation as a resident resource person for global mission? Melanie stated: "I was encouraged by the passion of all the counselors and youth pastors. The transformation of lives I witnessed this week spurs me on to look forward to lives being changed in my own future services. God changed some really hard hearts this week; I know he is doing and will continue to do the same in my ministry in Arabic-speaking cultures."