On the SPEEDway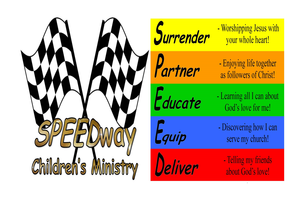 Susi Reaves
Interim Director of SPEEDway Children's Ministry
October 2015
So what's going on at SPEEDway Children's Ministry these days? So glad you asked!
Our children are learning about the adventures of the Israelite's as they learned to trust and obey God during their 40 year trek through the wilderness after leaving their lives as slaves in Egypt until they finally entered the Promise Land. Everyone is learning more of the importance of trusting God and honoring Him with our lives. Children from infancy through 5th grade have the same lesson each Sunday so families can continue the lessons during the week using their Family Connect papers.
SPEEDway has some amazing leaders that oversee teams of volunteers that serve our children at Santa Clara First Baptist. Let me introduce to you our team leaders for this ministry year:

Nursery - Mary Wong
Preschool - Pat Graham
Elementary
Bible Zone - Karena Bertos and Susi Reaves
Snack Zone - Lisa Robinson
Craft Zone - Kemi Porto
Game Zone - Jason Hammar
Administration
Lobby Hosts - Sofia Vega
Resources - Margarite Lee
These faithful team leaders recruit, prepare and train their teams to serve in key areas of children's ministry. Everyone does their part so that no one gets overburdened; most of our SPEEDway team serves only 1-2 times a month. Interested in doing something significant that makes an eternal difference in the life of a child? Contact me at susi@scfbc.org or by calling the church office to learn more about the opportunities available for you. Whether you enjoy being with kids or prefer to serve behind the scenes, there literally is something for anyone and everyone!
Please be in prayer for the next Director of Children's Ministry at SCFBC. God has someone very special in mind to head up this vital ministry, and I'm excited to see how He meets this staffing need.