The Williams Commissioned to Serve in Africa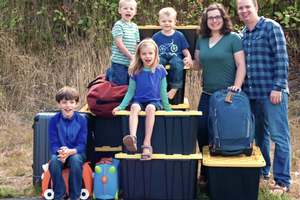 International Ministries
October 2015
Kyle and Katrina Williams were commissioned on August 9, 2015, for missionary service in the Democratic Republic of the Congo through American Baptist International Ministries (IM).
The newly-commissioned IM missionaries and their four children, ages 3 to 10, are planning to work alongside IM partner The Baptist Community of Congo at the Pastoral Institute of Kikongo, assisting with a program to train pastors and their spouses in theology, literacy and church and rural development. Before leaving for the D.R. Congo, the family will study French, the language used in schools in the D.R. Congo, in Paris, France.
The commissioning was held in the Williams' home church, First Baptist Church, Everett, Washington. "This is a very special day for our church," began the Rev. Dr. Brian Harpell. "Today, we see how people from among us have grown in their faith to a place where God has called them to full-time mission work in the D.R. Congo."
In his commissioning message, IM Area Director for Africa, the Rev. Ziherambere, described the great need in the D.R. Congo for pastoral training. "There are numerous new churches being planted in the Congo, but there is a huge gap when it comes to these churches having trained pastors. That's why I am so excited to see Katrina and Kyle ready to travel to the Congo to help train those leaders."
The Williams' were joined by friends, family and church members. The service was particularly meaningful for the local Congolese-Americans in attendance, who felt honored to be part of sending missionaries back to their homeland.
The commissioning certificate was presented by the Rev. Mercy Johnson, vice president of the IM Board of Directors. As she addressed the Williams, she said, "This is the culmination of four years of hard work that has brought you to this sacred moment of missionary dedication."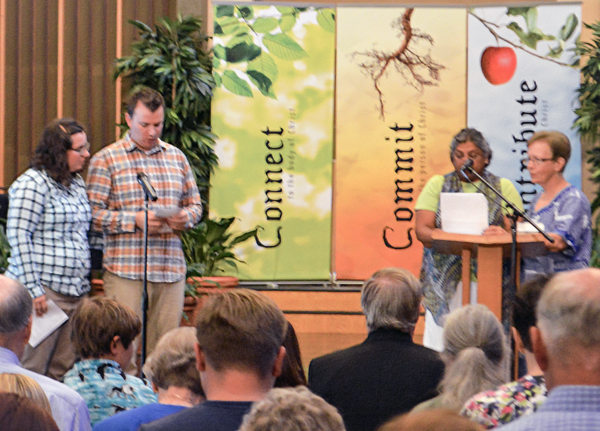 Wendy Bernhard, a former IM missionary who served for 30 years in the D.R. Congo, noted that "all education in the Congo above the seventh grade is done in French." She presented Katrina and Kyle with French Bibles. These will come in handy during the Williams' period of language study in Paris before they learn the Congolese language of Kituba.
After the service, the Rev. Schooler observed, "This was especially exciting because the Williams family is a picture of the vibrant, youthful future of IM. God is blessing IM and bringing about a transforming renewal that is a strong indicator of what's to come."
IM invites comments on Facebook. For more information, contact catherine.nold@internationalministries.org.