Welcome Pastor Valui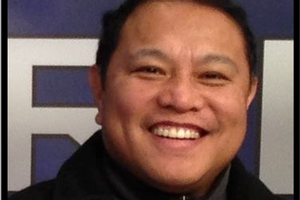 Joel Robinson
Chairman of the Board
October 2015
As was announced during the Worship Service on Sunday, September 27th, Pastor Wungreiso Valui has accepted our call to become the next Senior Pastor at Santa Clara First Baptist Church. Please help me in welcoming him to our community.
At his core Pastor Valui is an evangelist who passionately prays for the lost and celebrates when they are saved. He practices spiritual disciplines, such as Bible study, prayer, and fasting. His humbleness is evident, and his reliance on the Holy Spirit is apparent in the way he preaches and interacts with the congregation. His preaching is Biblically-based and engaging.
Pastor Valui places a high value on education. He holds a Doctorate in Ministry from Ashland Theological Seminary. He came to know Christ as a result of American Baptist missionaries in India and currently pastors an American Baptist church in Indiana. He has been in full-time ministry since graduate school and has led numerous international mission trips and developed local ministries to meet the needs of his low-income community.
Pastor Valui believes in leadership development. Besides working with current lay leaders in his congregation to train up other ministry leaders, he has intentionally sought out partnerships with the local seminary to bring in seminarians which has had the dual effect of providing them with valuable experience while helping further his church's ministry goals.
Above all, he is a loving husband and father who considers his family first after God.
Please join me in praying for Pastor Valui and his family:as they pack up their belongings in Indiana, move across the country, and seek a new home in the Santa Clara Valley. Please pray specifically that they would find a reasonably priced home to rent (or something to borrow) while they look for a more permanent residence. Pastor Valui's first official day in the pulpit will be Sunday, November 8th.