World Mission Offering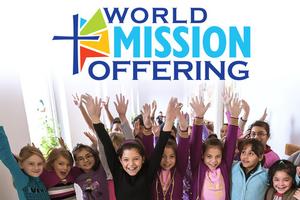 Pastor Rich
Transitioning Pastor
October 2015
...forgetting the things which are behind, and stretching forward to the things which are before, I press on toward the goal... Philippians 3:13-14

God is doing new and surprising things in once-Communist Hungary!
Forgetting what is behind: Hungary is still recovering from four decades of repressive Communist rule, during which schools were controlled by the government.
And stretching forward to what is ahead: Churches now have the opportunity to run schools, where they can teach the Bible, nurture students in their faith and open new doors by providing courses in conversational English.
As part of this new approach to education, International Ministries (IM) partner Hungarian Baptist Aid has been given the opportunity to manage 49 schools throughout this eastern European country—serving 17,000 students in grades K–12. And the impact has been staggering!
Students and teachers alike are blossoming in grace-filled environments as they study the Bible and see firsthand what a difference Jesus can make in their lives.
After-school clubs are reaching students with the gospel message, practical Bible teaching and the joy of the Lord.
Students are stretching their conversational English skills, thanks to American Baptists who are responding to the immediate and ongoing need for English-speaking teachers.
The amazing transformation that we see in Baptist-run schools in Hungary is just a snapshot of what is happening through IM's partners and nearly 1,800 missionaries and global workers in more than 70 countries around the world. Now more than ever, there is an urgency to stretch forward all around the world. And you are encouraged to be part of the new and surprising things God is doing through International Ministries with your support of the World Mission Offering.
SCFBC will be receiving your donations to this vital work all through the month of October. Praise God for His marvelous work supported by your generous giving.