France With The Williams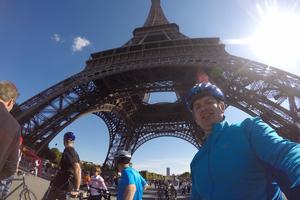 Kyle and Katrina Williams
November 2015
It is hard to believe we have been in France for two months! We are in our fifth week of school and just completed our fourth French test. It is frustrating not being able to say everything we want right away, but the progress we have made in five and a half weeks is encouraging.
As our mouths are adjusting to new phonetic sounds, our pronunciation is often lacking. Eli told me (Katrina) that 'quatre' (four in French) is, "like cat with a choke." Apparently, my 'r' wasn't "chokey" enough and not up to his high standards! I'm so glad that the kids are excited about
learning French. We have a long road ahead, but learning together and supporting each other is encouraging!
We look forward to being able to converse with our neighbors when we arrive in Congo and are so thankful to all of you who have made our studies here possible!
School started on September 1st. We spent our day trying to make sure everyone was in the right place at the right time with the right paperwork and supplies. It was a busy day! We made it home, ate dinner and sat down to take a breath. That's when Kyle checked Facebook and noticed someone had wished us a Happy Anniversary.
We had both completely forgotten it was our anniversary! We celebrated later in the week by taking the train into Paris.
Kyle & Katrina Williams

The Celebrate!
NOVEMBER 2015
READ MORE: