SHARES Cards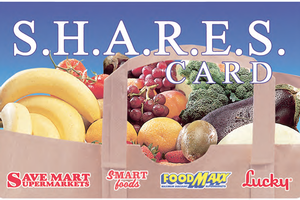 Maxine Darknell
December 2015
Thank you to those who are still using your SHARES Card when you shop at Save Mart, Lucky or Food Maxx grocery stores! When you buy groceries at these stores and present your special card before paying, a percentage of your purchase is applied to a special "savings" account and at the end of each quarter, a check for the total amount earned is sent to our church ABW (American Baptist Women) group who distributes it to various projects or organizations.
We started this FREE program six years ago and so far have received over $5100.00 which has been distributed to many areas of need. Some of the beneficiaries have been Operation Christian Child, Chaplain Prison Ministries, Second Harvest Food Bank, Inn Vision, House of Grace, Heart of the Valley, Missionary Support-Women Surgical Care, Grace Baptist Church-Homeless Ministries, Restoring Sight to Haitian Children, Seminary Scholarship Funds, Youth Ministries, Redwood Glen campus refurbishing and our new Bethlehem building. What a blessing to receive these extra funds to help others!
Please continue to use your card faithfully when you shop at these stores. If you don't have a card, please pick one up from the information desk in the church lobby.
The Celebrate!
DECEMBER 2015
READ MORE: