Redwood Glen Summer Camps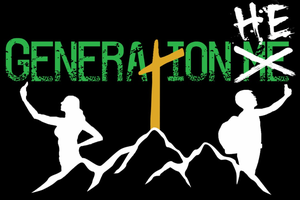 Redwood Glen Staff
March 2016
Redwood Glen Summer Camps
GENERATION HE
Taking a "selfie." Living life unfiltered. Posting thoughts, life events, and food pictures on social media. Asserting individualism. Questioning authority and tradition. "Generation Me" is alive and well today as lives are often centered on self with an attitude of entitlement and cynicism. As Christians, we believe that life is not to be centered on "me," but "He," Jesus Christ.
According to Philippians 2:3-5, we are to "Do nothing out of selfish ambition or vain conceit. Rather, in humility value others above yourselves, not looking to your own interests but each of you to the interests of the others. In your relationships with one another, have the same mindset as Christ Jesus."
Through our camps this year, we want to shift the mindset of this generation of young people from thinking "me" to living "He." Though there will be times of fun and fellowship, biblical teaching and worship will challenge children and youth to live fully for Jesus. We hope that you will consider sending your children to a Christian camp at Redwood Glen this summer as we seek to train up "Generation He."
Among the beauty of the redwoods, our multi-day resident camps provide a safe environment for young people to build relationships with others and with God. They will be instructed in God's Word, and have a fun-time experiencing true Christian community. Games, activities, singing, hiking, swimming, campfire, and creek-stomping are some of the activities which will create a life-time of memories. In small cabin groups, our trained volunteer staff and counselors will live out the love of Christ and provide support as faith decisions are considered and made.
There is no better investment in the life of a young person than a week of camp at Redwood Glen. With affordable registration fees, we have opportunities for children and youth of all ages. To register online go to redwoodglen.com. Camperships are also available.
The Celebrate!
MARCH 2016
READ MORE: