Meeting with Lauran Bethell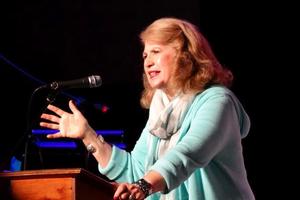 Chuck and Barbara Chicks
April 2016
MEETING WITH LAURAN BETHELL
Lauran Bethell dynamically and enthusiastically described her part in the world-wide effort to stop human trafficking when she spoke at our church on Monday, March 21. The Rev. Dr. Lauran Bethell is a Global Consultant Missionary of the American Baptist Churches USA. She is currently headquartered in Amsterdam, Netherlands.
She is one of the missionaries we at SCFBC directly support through our mission giving. When you designate money for "Missions" on your giving envelope, a portion goes to her work and to many other mission programs locally and around the world.
Lauren began her missionary work as head of the New Life Center in Chiang Mai in northern Thailand in 1987. Its goal is to provide education, Christian teaching, and job training for girls and young women so they will not be forced into a life of prostitution. It also rescues prostitutes from such a life. Her call to the New Life Center came after walking through the "Red Light" district and meeting with prostitutes in Bangkok while she was studying at the Thai language school.
Her work there evolved into advising and consulting with anti human trafficking organizations throughout the world. As a result she left her position as head of the New Life Center and moved to Prague, Czechoslovakia in 2001. After a few years there she felt called to move to Amsterdam, which is a more convenient location from which she can share Jesus' love and compassion around the world. Her meeting with us was near the end of a 3 ½ week trip to the USA.
Prior to her work in Thailand, Lauran spent several years teaching in Hong Kong and mainland China. Back problems forced her to return to the USA, where she attended the American Baptist Seminary of the West and received a Master of Divinity degree. She was later awarded an honorary Doctorate degree by that seminary because of her work in Thailand.
Lauran has enjoyed meeting with us several times in the past and considers us one of her "favorite churches." A delicious potluck followed her presentation.
The Celebrate!
APRIL 2016
READ MORE: