Youth News!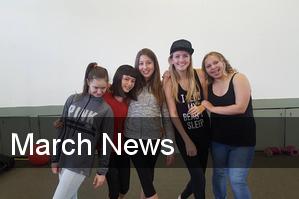 Youth Staff
April 2016
In March, we stepped back into our E100 series. Matt taught a lesson on the Holy Spirit coming at Pentecost. Mark led a week on Exodus 32-34 where the youth presented dramas to illustrate the story of the Golden Calf, and the second set of Ten Commandments. Kirsten taught a lesson on Peter's healing of the blind beggar, and how we should submit to God's plans, rather than insisting on our own plans. Danijela concluded the month by teaching about Joshua and his charge on leadership, and how we should "be strong and courageous". This was a great month of learning!
Also in March, a few of the youth participated in the SHAPE Summit, learning about their spiritual gifts and how they can be used for the kingdom of God. Kevin Prather stepped up and shared in the closing session about his gifts and calling. It was an awesome testimony. In the middle of March, we played some St. Patrick's Day themed games, with prizes for all. On Good Friday, we came together and shared a Seder dinner and went through the Journey to the Cross prayer walk. Afterwards, the youth shared about the stations that spoke the most to them.

Youth playing the "Lucky Charms" marshmallow game
Youth Mentors: Mark, Kirsten, Andrew, Mary, Matt S., Kim, Danijela and Matt M.
Upcoming Events
April 15-16 - Planet Wisdom
More Events at scfbc.org/reflect
The Celebrate!
APRIL 2016
READ MORE: