Experiencing God at Santa Clara First Baptist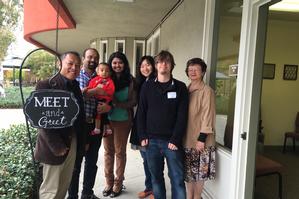 Dr. Wungreiso Valui
Senior Pastor
May 2016
I have been serving as the Senior Pastor for six (6) months. It is time to count my blessings. We serve a REAL God who is invested in REAL people with REAL life. My prayer is for people to have REAL encounters with God, and to experience REAL changes in their lives. This is my testimony on how I have experienced God at work in this church.
GOD ASSURING US WITH RAIN
We prayed for rain during the first sermon I preached at Santa Clara First Baptist Church in September 2015. It was the candidating week. I brought an umbrella and prayed for rain. For all practical reasons, it was a foolish thing to do. California was in the fourth year of record breaking drought. I encouraged the people to bring an umbrella the next time I preached. In November 2015, on the first Sunday as a new pastor some people greeted me with an umbrella in their hands. They said "Pastor we brought our umbrella." I prayed to God, "Please don't let me embarrass you." It rained that day. It rained the following Sunday and the next Sunday. The rain taught me a lesson. I found God in the rain. I felt God assuring us that He will be with us.
GOD STOPPED THE RAIN
We prayed to stop the rain during our Bethlehem Christmas event. The weather forecast for that week was rain throughout the week. We prayed for rain to stop between 6-9 P.M for 5 days. God was there during Bethlehem. I believed He showed favor to us. On the first day of Bethlehem the rain stopped right at 6 P.M with a few drizzles and started again after 9 P.M. It rained that week but not between 6-9 P.M. For the first time in 18 years since our Bethlehem event started, people came forward to give their life to Christ. I believed God was telling me again He will be with us.
GOD MOVING IN WATER BAPTISM
My first baptism was on February 14. I baptized a young man from India working at Apple. We decided in the staff meeting to have baptism every month from April-August. We let the church know we are having baptism in April. I called it "Faith-Baptism" because we were stepping out in faith. We had one more Sunday left and no one had come forward to take believer's baptism. On the third Sunday of April, after the service, a young mother from India came forward as I was praying for people at "The Well" (We encourage people to come to "The Well" every Sunday at the end of worship for prayer) and said that she had made a commitment to follow Jesus and would like to be baptized. We had baptism the following Sunday. We have had four people come forward to get baptized in the following months. I felt God reassuring me again that He will be with us.
GOD MOVING IN THE WORSHIP SERVICE
"The Holy Spirit is moving" a church member wrote in an email after a worship service. The member wrote, "I definitely felt a stronger sense of the Holy Spirit, manifesting through worship and the message today, than I have for a long time at SCFBC. I was really encouraged by the number of those who came forward - I hope you are encouraged as well." Many people came forward, some to stand in the gap for others, some for their personal needs. This is NEW and again I felt God reassuring me that He will be with us.
GOD AT WORK IN UNITY
One of the staff took me out for lunch and said "We have heard many scary things happen when a new pastor comes on board. We were not sure what was going to happen. I am glad things are working out and we are not experiencing all the scary things we heard about." At our staff meetings we talked about people waiting for a 15% decline in church attendance. I am grateful to God for unity among staff, board and the members. We have experienced an increase in attendance and giving. We pray and have faith to keep moving forward with the Holy Spirit. God is reassuring us in so many ways that He will be with us.
My prayer is for the church to walk humbly before God, listen to and obey His command and be sensitive to the leading of the Holy Spirit. Above all, remember this church belongs to Jesus and we are to follow Him faithfully with all our mind, hearts, soul and strength. Let us keep serving with Holy fervor and passion.
The Celebrate!
MAY 2016
READ MORE: