Redwood Glen Work Day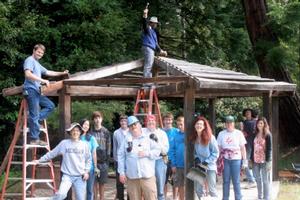 Redwood Glen Staff
May 2016
A Day of Volunteerism & Service
Redwood Glen Work Days are an opportunity to volunteer and teach youth the importance of Christian service. Our 2016 annual Work Day will take place on Saturday, May 21st. We encourage you to consider joining us to spend the day serving at Redwood Glen. Please contact Jim Garvey at jim@scfbc.org for more information.
Work Day begins at 9:00 am and concludes by 5:00 pm. Overnight accommodations on Friday and/or Saturday night are available, along with 8:00 am breakfast and 5:30 pm dinner. RSVP for availability to info@redwoodglen.com.

Our Work Day Projects are often determined by the number of people who will be coming and their skill levels. Thus, it is important to RSVP and let us know you are coming and how you may like to serve.

When you RSVP, please give us the following information:
Name: (everyone will get a name tag)
Telephone and email: (we want to be able to confirm with you)
Age group: Everyone is welcome (15 years or younger must be accompanied by an adult over 18 years old).
Church affiliation: (we like to keep track of who is coming from which churches)
Arriving Friday night?
Arriving for 8:00am Saturday breakfast?
Staying over Saturday night and working on Sunday? (Saturday overnight only available for Sunday workers. Thank you.)
I have the following skills: (plumbing, electrical, carpentry, painting, concrete, landscape planning)
RSVP at (650) 879-0320 or via email at info@redwoodglen.com. We hope that you, your friends, and members from your church/organization will volunteer to serve Redwood Glen at Work Day. Contact us if you have questions.
The Celebrate!
MAY 2016
READ MORE: