None Nation: Spiritual Tectonic Shift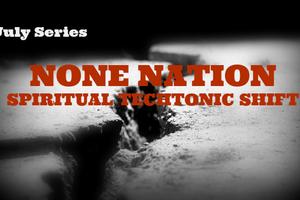 Wungreiso Valui
Senior Pastor
July 2016
The Nones - people who are unaffiliated with any particular religion - are the fastest growing group in America. According to the Pew Research Center, the number has jumped from 16% in 2006 to 23% in 2016. The Nones are not only growing, but they are becoming even more secular in their beliefs and attitudes. The Nones also include people who identify themselves as atheists or agnostics. Others in the group say their religion is "nothing in particular."
The summer sermon series is designed to help us share our faith meaningfully with the non-religious who do not believe in God, and to the religiously unaffiliated who believe that faith is not important. We can meaningfully engage those in exile and exodus, as well as the nominal and nomad, when we demonstrate that our faith is real and that it works in our daily lives. Nones - all people, in fact - need to see that God is real, alive and involved in our day-to-day activities.
The purpose of this series is to help us engage and encourage others to explore and discover God. We will be looking at 5 spiritual paradigm shifts:
DISCIPLESHIFT: Discipleship is to follow Jesus - not a church, denomination or leader
WORSHIFT: Worship is a matter of heart - not of place
LEADERSHIFT: Leadership is service - not power over, but power with
FELLOWSHIFT: Fellowship is selflessness and oneness - one body in the spirit
RELATIONSHIFT: Relationship is Trinitarian (Trinity model)
Sharing compelling reasons for our faith is contagious. Let us be the church that is different and make a Christ-like difference in other people's lives.