Travel Plans and Visas for Congo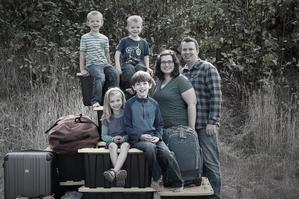 Kyle & Katrina Williams
Missionaries in Congo
July 2016
Dear Friends,
Thank you for all of your prayers and encouragement for our travel/moving plans this summer. Unfortunately, those plans may become a little more complicated. We have been informed by multiple sources that the Congolese visa application process is currently taking much longer than usual. We applied for our visas early and visas are still being granted, so we are hoping that ours are among those that are approved this coming month. However, we will need our passports back by early August for traveling and exiting France before our French visas expire. So if our Congolese visas have not been granted by mid-July, we will have to pull our applications and reapply at a later date.
Given the possibility that our visas may not be granted in time for us to move to the Congo in late August, we are discussing and praying about possible Plan B scenarios that include an interim time for us to reapply for our Congolese visas. Throughout this process, we have been reminded that even our best laid plans contain uncertainty. However, we have a sense of peace that we have gone forward in faithfulness and that the rest is in God's hands.

As for our language study, we will be saying goodbye to nearly half of our classmates as they move on to ministries in various parts of the world. It is exciting to see our peers moving forward and yet bittersweet to say goodbye.

Your co-workers in Christ,
Kyle & Katrina Williams
Getting older
Since we last wrote, Elijah, Adison and Kyle have all had birthdays! We want to thank all of you who helped them celebrate by sending birthday cards and messages. The sting of being away from friends and family on these special occasions was lessened by your thoughtfulness!