We're Halfway There!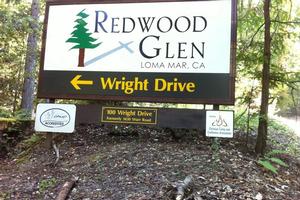 Redwood Glen Staff
September 2016
Hello Friends of Redwood Glen!
With a busy summer winding down, we are catching our collective breath while also giving thanks to you, our supporters and friends, who continue to keep the camp in prayer.
Redwood Glen is almost halfway to its goal of $400,000 to build a new water system in order to continue our 58-year history. Your help has been tremendous and if your gift is one (or more) of the 1,000 different donations to the camp, we say, "Thank you soooo much!"
To date we have raised over $135,000 in cash and $60,000 in donated goods for an estimated total of $195,000. Whether big or small, every gift is greatly appreciated.
If you have not yet given or would like more information, please click here to give by using your credit card. If you prefer to save us the 2% service charge for an online gift, you can mail your donation by check to: Redwood Glen, 100 Wright Dr., Loma Mar, CA 94021.
If you have already given but would like to give again, another $20 (or more) would be a tremendous help.
Water Update
Redwood Glen is back to digging wells. Within the next few weeks, two or three new wells will be drilled and we are praying that by combining the water flow from these wells there will be enough water to sustain Redwood Glen's needs into the future.
Although we drilled last year at the archery range and hit water, the well unfortunately did not produce the quality of water needed and thus was determined to be unusable. Working with a new engineering company, we are confident that this next series of wells will produce the quality and quantity of water we need to be water independent.
Our new wells will be drilled at a higher elevation, closer to Hoffman Creek, where the quality of water is historically better. In addition, rather than drilling in mudstone like we did last year, we will be drilling in a sandstone geological formation, which is known to produce better quality water.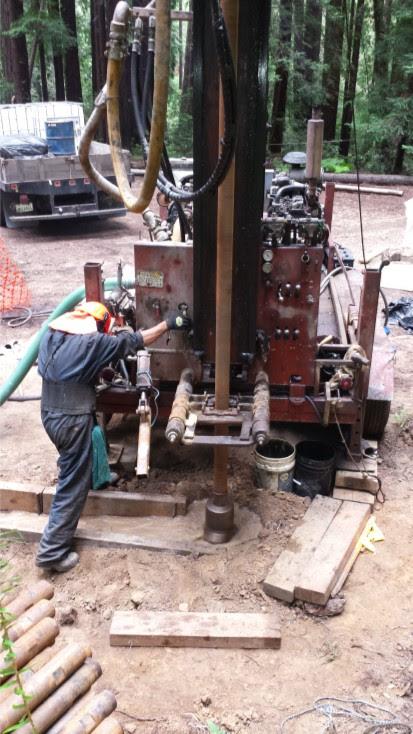 The drillers are also using a different method, which will let us know earlier when we hit water and make it possible to test the quality of the water at different levels.
After the first well failed last year, the plan was to go back to Hoffman Creek for water. However, because of the drought, there is not enough water there during the summer months to take care of the camp's needs. Hoffman Creek is currently flowing at 3 gallons per minute (gpm) and the camp needs about 7.7 gpm. If the new wells produce enough water by themselves, treating the water will be simple and inexpensive. But if we need to combine well water with surface water from Hoffman Creek, two different kinds of treatment plants will need to be set up and used.
If the new wells do not produce enough water, the worst case scenario is for the camp to use water from both Hoffman Creek and Pescadero Creek. In this case we would need to go through a permit process and raise the infrastructure costs to set up a diversion spot near Indian Point.
Of the money brought in so far, $77,333 has been spent this year for purchasing water and having it hauled in to meet the needs of our guests. Professional engineering costs, including hydrologists, surveyors and water engineers, have been $111,000. We are looking at an estimated $50,000 - $60,000 to drill the two or three new wells.
As you can see, the costs outweigh our income
Redwood Glen is currently covering its extra water expenditures with earned profit from guest groups and our program camps. However, in a "typical" year that money is saved to cover expenses during the slow months of November through February. So the camp will be in a financial bind this fall and winter if we don't receive more donations in order to finance our water project construction and underwrite the exorbitant amount of money needed to supply guests with water during the transition period.
Any help you can give to support the ongoing ministry of Redwood Glen during this time is greatly appreciated. To give, click here.

Thank you for your prayers and ongoing support. Again, you are greatly appreciated.