Worship in the Park - Thank You!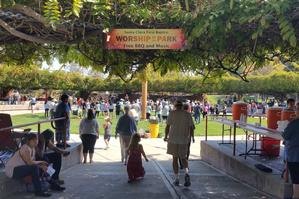 Sharon Cintas
Worship Director
September 2016
What a great day we had last Sunday (August 28) when we had our worship service outside in Central Park! The name of God was lifted up as the most high God, the Spirit was alive and moving, and friendships were made and deepened over a delicious meal. Pastor Valui encouraged us to, like an Olympian, "Go for the gold" as Jesus went for the gold for us. The day was very special as we declared God's love, power and healing over the city.
Thank you to all the volunteers who made this great event possible: Greg Robbins and his BBQ/food team; Jerry Cintas and his team for setting up all the sound equipment; Steve McLenegan and his friendly team of greeters; Margareth Valui and her team that provided activities for the children; Andrew and Mary Wong for providing the face painting and balloon animal artists; Jon Hammar for leading games for all ages; and my amazing team of talented musicians in the worship band.