Connecting at SCFBC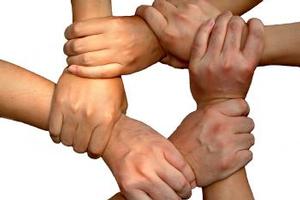 Connection Team
March 2017
Welcome!
Welcome to the following new Santa Clara First Baptist Church (SCFBC) members who received the Right Hand of Fellowship from Pastor Valui and the congregation on Sunday, February 12th and on Sunday, February 26th:
Haze Dennis, Dennis Hoffman, Ryan Knight, Cynthia Sun, Daniella Laureles, Abbie Rumminger and Mindy Shing, many of whom are already involved in various church ministries.
Baptism
Congratulations to Dennis Hoffman and Michael Rawson on their baptisms on January 29th. If YOU have previously attended the "Introduction to SCFBC" class and are now called to be baptized and/or called to become a member of SCFBC, please contact Pastor Valui at valui@scfbc.org, Greg Robbins at greg@scfbc.org, or Jerri Cooper at jerri@scfbc.org, so we can help you with what God has called you to do.
Intro to SCFBC
If YOU have been called to become a member here, but haven't attended the "Introduction to SCFBC" class, please save the date for the class on March 19th at 12:00 noon in the Fireside Room after the Sunday morning service. There will be a light lunch served and you will also meet others who are considering the next step of their spiritual journey. If you are planning to attend, please let the office know at 408-241-7635 so that the proper amount of food can be prepared.
Life Groups
If YOU didn't get a chance to sign-up for a Life Group in January, you can always sign up for any of the ongoing groups that meet on Sunday, for one group that meets on Monday, for two groups that meet on Wednesday, for the group that meets on Thursday, and/or for game night on Saturday evening. To sign up, go to the church website at www.scfbc.org and click on LIFE GROUPS at the top of the landing page. Life Groups are an excellent way to get connected with the Lord, with each other, and with the church.