Redwood Glen Summer Camps 2017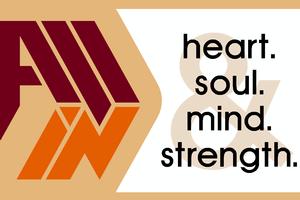 Redwood Glen Staff
March 2017
Redwood Glen Summer Camps
3...2...1...JUMP! Are You All In?
What does it mean to be all in?
God asks us to jump - heart, soul, mind and body - into a relationship with Him. Commitment can be a scary thing in our world today. We like to keep one foot outside the door in most relationships in order to protect ourselves from the unknown.
"Am I good enough?," we ask. "What if I don't make the team?" Or we think about how we don't want people to see us when we are upset. These feelings come from pride, self-doubt, fear, and/or overthinking. All of these things hold us back from reaching the full potential that God has planned for us.
In Luke 10:27, Jesus said, "'Love the Lord your God with all your heart and with all your soul and with all your strength and with all your mind'; and, 'Love your neighbor as yourself.'"
At camp this year, we will help our campers see their worth in the way that God does. We will be challenging the campers to grow in their relationship with God, and will be helping them reach their goal of serving Him.
Among the beauty of the redwoods, our multi-day resident camps provide a safe environment for young people to build relationships with others and with God. Each person will be instructed in God's Word, and have a fun time experiencing a true Christian community. Games, singing, hiking, swimming, campfires, and creek-stomping are some of the activities that will create a lifetime of memories. Campers in small groups will share a cabin, living with members of our trained volunteer staff and counselors, who will emulate the love of Christ and provide support as the campers consider and make decisions of faith.
There is no better investment in the life of a young person than living a week of camp at Redwood Glen. With affordable registration fees, we have opportunities for children and youth of all ages.
For a full-color brochure, please contact us at (650) 879-0320, or email us at program@redwoodglen.com. "Camperships" are also available for those in need, so please call the camp for more information.